One thing I really missed while being away from the Netherlands: riding the bicycle. The feeling of the refreshing morning wind in my face while cycling to work; cycling to the supermarket, to the shops and arriving anywhere within a few minutes. There is an amazing freedom in this means of transport. If you live in The Netherlands you know exactly what I mean. Cycling makes life more beautiful.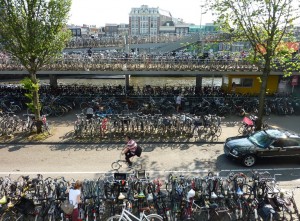 Except for when it rains.
I think it is around 2 times a month that I come home totally drowned. Today it was a special case, it was raining cats and dogs. However, before going home, I really wanted to pass by the supermarket. During the shopping, I saw several times that people stared at me. It was uncommon, it was longer than normal. Was there something wrong with me? Maybe they just like my smile.
I arrived at the checkout desk. The cashier looked at me and said; "Miss, your mascara is smeared all over your face". She pointed at the sides of my face and even above her eyebrows to indicate where my black mascara was. "Thank you", I said. "Great, I knew something was wrong, I just waited for someone to tell me". I left, with a smile.